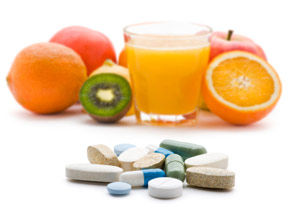 Right nutrition with minerals and vitamins for nails.
It is very important to get your nutrition right, it will make your hair and nail look their best all the time.
Here is a list of important vitamins and minerals that will help you achieve best results:
Vitamin A - helps grow healthy nails. Avoid alcohol and caffeine since they can diminish the amount of vitamin A in the body.
Vitamin B - A deficiency in Vitamin B can make nails thin and cause breaking. Lack of folic acid, which is a B vitamin, can also cause unhealthy nails.
Vitamin C - Lack of vitamin C is known to cause "hang nails". Citrus fruits are a great source of vitamin C as well as supplements.
Vitamin E - Vitamin E not only has antioxidant properties, but Vitamin E is also good for blood circulation, which improves nail growth. Cutex Quick & Gentle Liquid Nail Polish Remover Nourishing with Vitamin E uses this multi-tasking vitamin star for an extra healthy kick in this nail polish remover.
Zinc - A lack of zinc can cause a change in nail shape and/or white spots on nails. Bananas are great sources of zinc.
Calcium - Dairy products provide calcium and help maintain healthy nails. Eating more calcium rich foods as well as lots of protein (lean meat, poultry, fish, and legumes) and iron (green, leafy vegetables like spinach) will help you grow a perfect ten.
Right nail care products.
While correct and balanced nutrition with right amounts of vitamins and minerals is of great importance for your hair and nail it is always advisable to use correct nail care products.
LABiO nail care product range is specially formulated to provide your nails and cuticle with the best possible vitamin care from outside. Our products are charged with natural botanical oils and extracts that will help you keep your nail looking their best and healthy at all times.
LABiO Regular formula - Nettle leaf extract, Aloe barbadensis extract
LABiO Expert formula - Rowan berry extract, Almond oil, Tea Tree oil
LABiO Acetone free ECO formula - Vitamin E, Sea Buckthorn extract
Learn more about LABiO nail care product range: here!